Campaign of the Month: November 2011
Avatar: Conquest of the Imperial Order
Transportation
---

ransportation in the World of Avatar

Methods of transportation in the Avatar World vary largely from nation to nation. They vary from more modern transportation like the Earthbending Mono-Rail to animal-based transportation like Flying Bison.
Air Nomads
The Air Nomads use of Airbending extends to transportation. Without any outside means of transportation, Airbenders can run great distances at great speeds. However, for longer journeys or for some applications, the Air Nomads make use of Flying Bison and Gliders.


List of Transportation Methods
Flying Bison – This was the primary long-range transportation used by Air Nomads. Sky Bison use Airbending to fly, and are probably the fastest means of transportation in the world.
Gliders – Air Nomads possessed staffs to aid their bending. They opened their staffs into gliders to fly.
Wind Surfing – Aang made a makeshift wind surfboard out of his glider and driftwood. It can be used for short distance travel over water.
Water Tribe
The people of the Water Tribes always live around water. Thus, their methods of transportation are mostly water based, with a small variety of boats and larger ships used.


List of Transportation Methods
The Land of Earth
The Land of Earth is vast and thus has a large variety of transportation for every need. Various methods emphasize speed, agility, or luxury.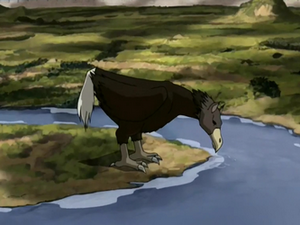 List of Transportation Methods
Ostrich Horse – Ostrich Horses are a popular method of transportation in rural areas, as they are versatile and resilient.
Badgermoles – Badgermoles can be useful for transportation underground if you play music. They are also domesticated for heavy labor purposes in other parts of the land.
Ferry – Ferries are used to cross bodies of water, for example to Ba Sing Se.
Monorail – The Monorail is a very fast method of transportation that utilizes Earthbenders, and is available to citizens of Ba Sing Se, who otherwise would require days to travel through the underground city.
Carriage – Animal-drawn carriages are used by the wealthy for transportation.
Palanquin – The Earth King of Ba Sing Se uses a palanquin, an ultimate status symbol.
Eel Hound – Eel Hounds are the fastest creatures on land and also very fast on water, and are thus very useful for purposes of pursuit or interception.
Giant Beetle – Giant Beetles are used in the Si Wong Desert by the Beetle-Head Merchants as pack animals and for transport.
Sand-sailors – Used by the Sandbenders to get around the Si Wong Desert.
Shirshu – Used to pursue bounties. Can track scents across continents and travel across land incredibly quickly.
The Land of Fire
The Imperial Order has many transportation methods. It has even been seen that they are experimenting with steam power, as the party encountered one of their experimental steam powered scouting ships. This technology is still not very refined and the ship was very small and inefficient.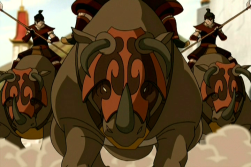 List of Transportation Methods
Ship – One of the fastest methods of transportation in the world, sea-going ships are used widely in the Land of Fire.
Barge – small wooden luxury vessel built for use by nobles. This small vessel possesses no engines, and is pulled by one Sea Lion.
Carriage – Animal-drawn carriages are used by the wealthy for transportation.
Palanquin – Royalty and the nobility use palanquins, an ultimate status symbol.
Mongoose Dragon – These lizards are large animals that are basically ridden like a horse.
Dragon Moose – Carriage-pulling creatures.
Dragon – Dragons can be used as transport if they are willing to take a rider.
Komodo Rhino – used in the war as cavalry.