---

Burning Titan stands between our heroes and their goal, more than just an average obstacle. The party spreads out and starts a fierce barrage of elemental attacks. The burning titan sends out cascades of flames from his mouth, trying to smash and grab at you with his massive magma arms. Grabbing Tsing Tao he begins crushing him. Kio strikes at the arm releasing his death grab the martial artist, bellowing in rage and pain all the while. Fow Bang Cho and Avatar Jaraiya work together to make a huge Golem to distract the creature, and it works. However from the looks of things the golem wont last long. Fang Po Po unleash a vortex of air at the creature and hurls shurikens threw it sending them at massive speeds into the beasts sides. Aumanil constantly blasts the Ember Guard while healing his wounded companions and providing a Water Shield. The beast begins bleeding huge chunks of magma that spew across the room creating random projectiles of liquid fire. As your constant attacks begin to fell the beast Tsing Tao pulls a near death and unconscious Kio out of the chaos onto the bridge to try and stabalize him, a good decision as the beast explodes sending magma all over the room wounding the rest of the group. After licking their wounds our adventurers press on and encounter Eros who says you havent quite past her test yet. You find yourself in a room made of ice, once a library, but now occupied by three powerful waterbenders. Waves of water and swirling tentacles meet fire blasts, fists, blows of air, and the fierce determination of a waterbender trying to contain and outperform members of his own art. Eventually you destroy the powerful benders and confront Eros.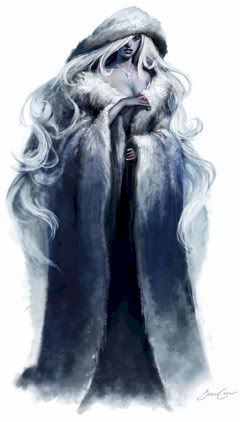 She stands in the middle of a cascading room of water with walls pouring over into the lake like room, nothing but the stars above. You all begin to be manipulated by her mind powers, but thanks to the Spirit Amulet Tsing Tao breaks free. The martial artist shakes his companions and brings them back to reality. With a devious smile resembling one of a cat playing with her mouse, Eros explains to you the current state of the spirit world. If balance is not restored than than safeguards that hold back the Keeper in the veil will break and he will be able to make a hole into the world of life, much as she and other demons have begun to do. She does not know how but she knows only you can stop the Imperial Order, and only you can train the Avatar to fulfill his duty. She does not think you are powerful enough and devolves to a screaming rage, the air almost crackles with power. Her rage almost carries a hint of fear, and Kio notices in the chaos that a sinlge tear falls down her pale cheek. As you fear she might kill you in her rage, suddenly pillars of earth and stone burst from the depths, stones floating in the air as if gravity no longer exists, as if right there you are partially in another world. Avatar Zeng Ku appears and brings Eros to heel commanding her to help you. She agrees, again with a knowing smile. It is obvious these too have a history but the old avatar has no patience for her games. Eros bids you good luck, saying she will help in any other way she can while you have a common threat and she begins to leave back into the veil with all the other spirit world manifestations that have swarmed the temple. As she leaves she presents a Crystalline Greatsword, called Valorun, to Fow Bang Cho which you learn belonged to Avatar Zeng Ku.
A monumental task lies before you, and as you help the Fire Sages and other people who come to when the hole closes, you learn from the sages that they received word from one of the air temples that the Imperial Order is gathering forces to attack, and you are on your way there to meet with leaders from both the White Lotus and the Air nomads to form a battle strategy.