---

og rolls in over the Northern Ocean as The Jade Dragon sails towards the icy region that is home to the Northern Water Tribe. As the ship proceeds further into the fog, it becomes thicker, obscuring vision. From the darkness, the sound of a voice drifts over the waves. Uneasy, the group gathers on deck, carefully listening to what lies in the night. As the sound grows closer, it become clear that it is a women singing. The source of the song is a ship that appears from within the fog. It is covered in ice. As it approaches the song seems to multiply in its strength, blocking out all other sound…
Out of the mist of history, He'll come again, Sailing on ships across the sea, To a wounded Nation
Signs of a savoir, Like fire on the water, It's what we prayed for, One of our own
Just wait, Though wide he may roam, Always, A hero comes home, He goes where no one has gone, But always, A hero comes home
Deep in the heart of darkness sparks, A dream of light, Surrounded by hopelessness, He finds the will to fight
There's no surrender, Always remember, It doesn't end here, We're not alone
Just wait, Though wide he may roam, Always, A hero comes home, He goes where no one has gone, But always, A hero comes home
And he will come back on the crimson tide, Dead or alive, And even though we know the bridge has burned, He will return, He will return
Just wait, Though wide he may roam, Always, A hero comes home, He knows of places unknown, Always, A hero comes home
Someday they'll carve in stone, "The hero comes home"
He goes and comes back alone, But always, A hero comes home
Just wait, Though wide he may roam, Always, A hero comes home
And suddenly, everyone in the crew falls into a deep slumber. The heroes all resist and stay awake, but every single one besides Aumanil is compelled to reach the source of the music as soon as possible, as ice reaches from the other ship and locks it together with the Jade Dragon…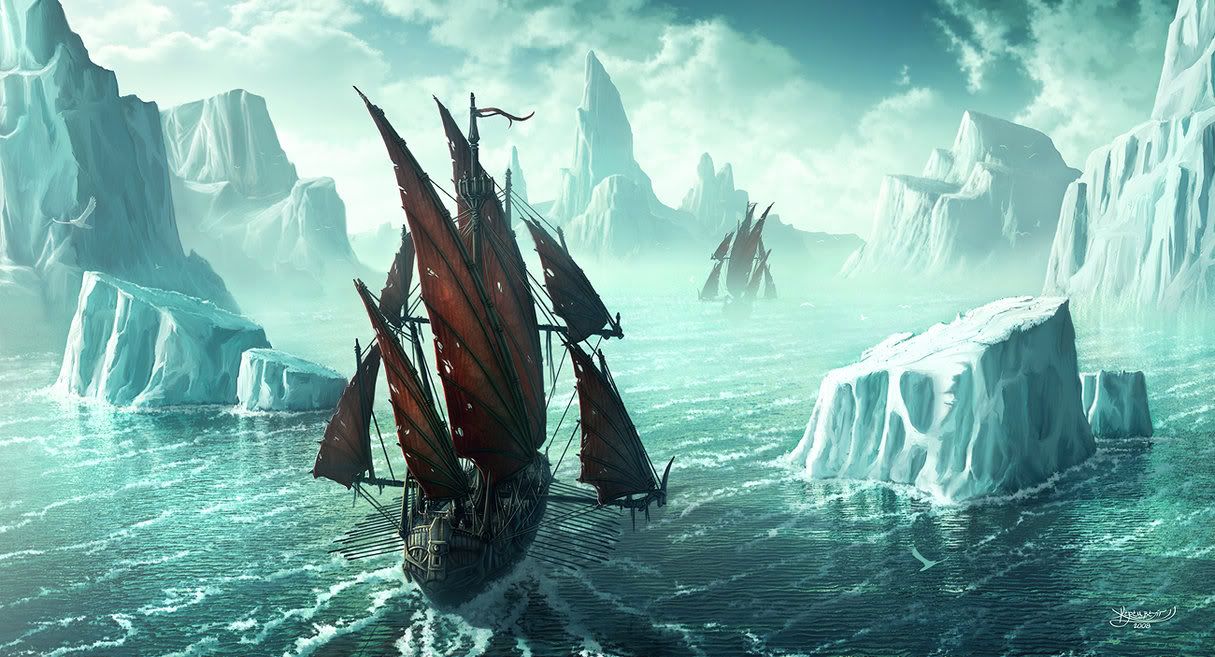 Aumanil, panicked and unable to see through the thick fog, throws his arms up and pushes the fog away from the mystery ship so he can assess the situation. As he does so, the rest of the group bolts at top speed over to the other ship, which is now connected by a bridge of ice. They sprint toward the back of the ship with the retreating fog and burst threw the frosty door leading to lower deck. Aumanil, stunned at the sudden development of the situation, runs after them and makes his way below deck. As he is running, he suddenly feels a consciousness hammer into his head as he quickly pulls up his mental defenses. He recognizes the presence as the spirit withing his headband, and in the moments they touch minds all he can feel is an overwhelming desperate need to get away from whoever or whatever is singing below deck…


He is unable to learn more as he is forced to completely shuts off all connection to her consciousness, for fear of her taking control. This does not bode well, but he will not leave his companions to die. Aumanil uses water in the air to create a curved wall of ice and slides on it across deck on down the stairs. The voice is getting much stronger now. As he reaches the bottom level of the ship, he can see what used to be the crew, now turned to Wrackspawn, coming from within the rooms. He quickly bring the water he used to get down and makes thick walls of ice before each of the doors, sealing them off. Finally reaching the room where the sound is coming from he bursts the doors open and finds Eros… his companions all on their knees before her, unable to move. Eros, her long hair falling off her shoulders as she turns towards Aumanil, speaks in a sweetly soft tone.
"My dear sweet aumanil". Then her smooth countenance grows dark and menacing, her pleasant features twisting into a mask of rage as she locks her eyes upon the headband you wear. Suddenly, the room becomes a deep shade of dark
blue emanating from her and the room becomes so cold that it becomes hard to move, ice coating the walls. "WHERE DID YOU GET THAT, THIEF!!!"
Aumanil, seeking to calm her, begins to explain himself, only to have a piercing consciousness enter his mind, searing into his memories, feelings, everything he is. As she ruthlessly examined his memories, straying far from the area in question, she at last withdrew from his mind.
Eros regains her countenance. The sweet chilling smile returns to her lips. "Ah yes I should have known. You would never betray ME now would you Aumanil? Well, this is most interesting indeed. You've surprised me Aumanil, I didn't think you had it in you. Ah but I see you have been stricken with my favorite emotion, lust. It practically resonates from your memories, despite how noble you may think your intentions to be. It is palpable. You know, only moments ago I nearly ripped out your heart and choked you with it…. But now that I've seen what you have been using my slave for, I find it quite amusing, and its properties have served you well in your journey… Tell you what, how much do you want the powers of my headband? Would you grant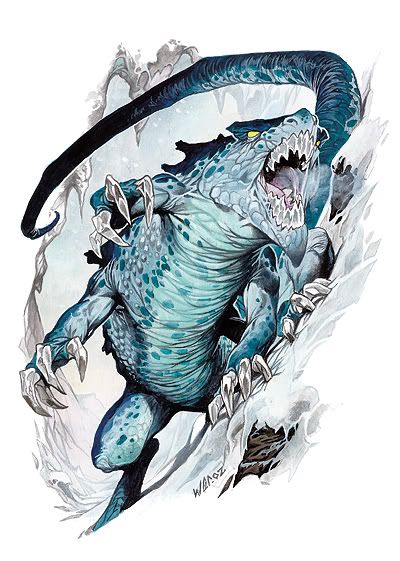 me a wish? I will not tell you, but feel well assured that I will not claim my boon until many many moons from now. Accept, and I shall let you and your friends go immediately. Aumanil accepts the deal, so Eros leaves the headband with him, but she takes its ability to let him breath underwater.
"As a parting gift, I will first leave you with a small token of my gratitude. When you reach the Northern Water Tribe, ask someone you trust about the Forsaken Fortress. Second, I will leave you a token of my anger for the theft of my headband. Oh come now, don't look so surprised at my emotional reaction. After all, I am a women…"
As she retreats into the swirling black hole that can only lead to the Spirit World, two creatures step out, simultaneously releasing the group from their paralysis. A large Frost Salamander and Ice Golem come forth, giving the group a fierce fight. After the beasts are slain, it seems the Wrackspawn from earlier have broken from the ice they were trapped within, and now engage in combat with the group. Using excellent flanking tactics and keeping the enemy funneled in the small corridor, the party is victories against their foes and return to the ship to wake the crew and set off again.
After a few more days sailing on the icy Northern Sea, the famed Northern Water Tribe finally comes into view.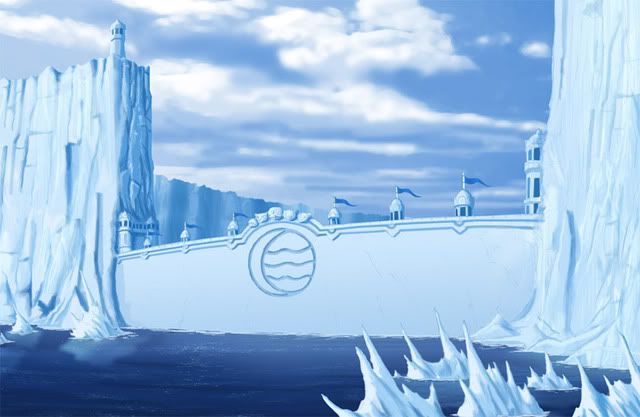 The Jade Dragon is brought into the city, a tunnel melting before them by Waterbenders over the front wall. Raising the water inside the wall, the ship is brought up into a series of canals that fills the famed city, and the group marvels at the ice architecture. They are greeted at the docks by Aumanil's uncle, Blade Master Motoru, and his sister Kyah, who are both overjoyed to be reunited with him.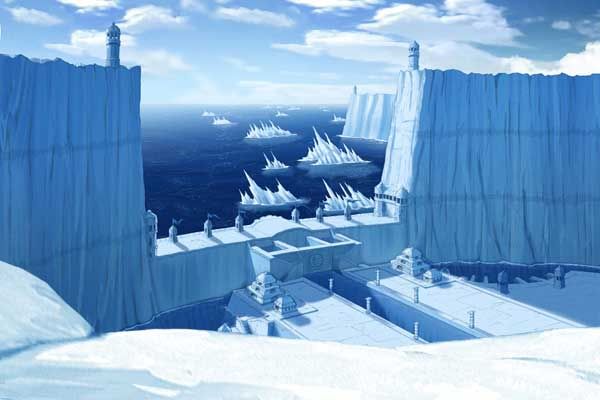 The group are led up to the council chambers, while being filled in on current events. Aumanil's brother is now leader of the tribe. After Aumanil disappeared his brother slandered his name and said he had forsaken his tribe. When they meet the council, Aumanil's brother makes his contempt obvious, but proclaims to Rongo that it will not interfere with diplomatic relations. Motoru tells the group to meet him at his home tomorrow. They spend the night "enjoying" local fare and drinking, while Aumanil attempts to reconcile the negative image his brother has put to his name.