---

usk draws over the horizon as the Ethereal Defiler finally lies dead. Last time, the group chased Talin's trail into the forest, leaving a gaping hole in the bamboo wall of the Inn. Finding the scene of a struggle, the group follows Angela's trail and encounters Veradin, who had apparently brought Kio back to life through some unknown dark magic. He traded Kio for the ritual (which all of you think is the tattoo ritual that Aumanil has already memorized) so it does not seem a steep trade, however it became quickly aware that he did not intend for Kio to live as he did not give you the real antidote. Kio did however get the antidote from Togashi, Tsing-Toa's half brother who is forced to do Veradins will. After his escape, you were forced to fight a powerful spirit known as an Etheral Defiler which Fow Bang Chow slew with his mighty sword Valorun. After the battle, Togashi left an old piece of parchment revealing the truth of Talins state as a Lycanthrope, and you headed back to the inn for one more night, as they let you have a free night in exchange for fixing their wall, as they simply do not want any trouble. The group thankfully agrees and prepares for their journey into the canyon complex known as the great divide.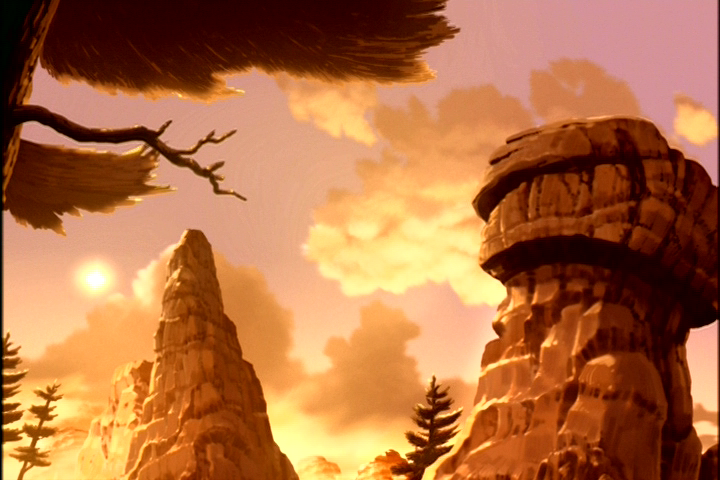 Next day given food, Neema gives Aumanil some lamb to feed Atka out back. You go out back and Atka is jumping into the air trying to catch a messanger hawk who squawks in annoyance at the dangerously playful great cat. The hawk, seeing Aumanil, flies over to you and drops a parchment in your hands before landing on a branch out of Atkas reach
"Dear Aumanil, I have rescued my sister and she is safe for the time being. I cannot express in words how deeply I am in your debt and I know you risk much. I must warn you, Veradin is planning to eliminate you and your group, he has gathered a new group. He wants to wait until you deal with the WolfBats though. I know his designs, for he is the right hand of the Emporium, are to conquer the world once again and this cannot be done while the WolfBats stalk the land. Regardless, you must end this terrible threat. The Order is a puppet. The Emporium has tendrils everywhere. I even hear rumors they have a contact in the high up of the White Mantel, and I would not even be surprised if it is their leader. It makes sense why the White Mantel refuses to takes sides, they are waiting to see whether it will be more beneficial to join the alliance and remain involved in Old World politics or if the Order can actually win all out at which point they would put all their eggs in that one basket. No matter the outcome of this war, your real target is the source. I will give you a map of their land, far across the seas. The seas there are treacherous though, I do not know the safe route but there is only a few, you must navigate those terrible seas yourself. Even if you stop the Emporium, the Order will continue on their own devices as the truly believe the lies that have been shoved down their throats, as religion is such an easy tool to use against the ignorant and foolish. A momentous task lies ahead of you, I will remain hidden for now. I have contacted Togashi, a slave of Veradin, and he is on our side. Within this envelope is a letter he wrote describing all these things I have told you, this you can present to your friends as the source of your information. I will keep in touch. May the stars watch over you Aumanil, Son of the Northern Water Tribe. And thank you…
Nicci
(inside you find the letter in Togashi's hand, a map, and the locket of Nicci and her sister.) Aumanil proceeds to tell the group what he learned as if Togashi was the one who sent the message, keeping all information about Nicci's existence to himself.
On way to Great Divide, you reach the outskirts of the massive canyon that seems to go on for miles. It will be a day and night to get through. However, as you approach a man with long dark hair, brown robes, and brown eyes appears from behind a rock. "Halt! I am Luan Qua and this is my road, and you cannot pass unless you defeat me in a duel! Is there one among you who dares face me."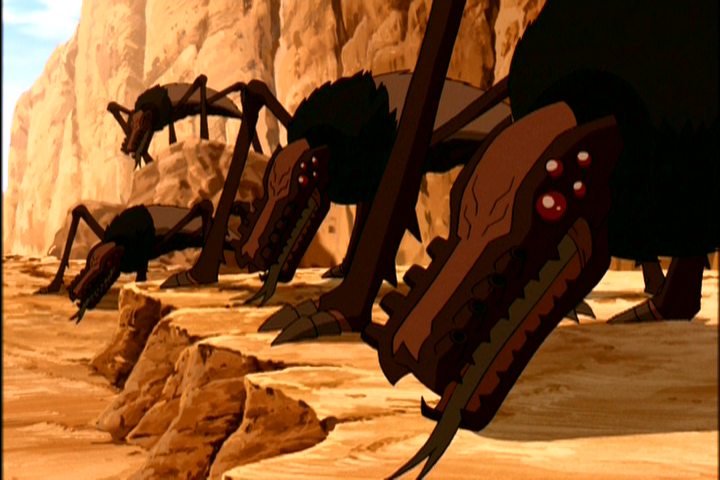 Talin faces the bender. After a thunderous battle, Talin morphs into his Lycanthrope form in rage and the Earthbender fleas, forcing the group to subdue him and force-feed him Wolfsbane.
Continuing through the great divide the group encounters huge Canyon Crawlers which are being ridden by a crazy canyon dwelling man. After a fierce battle the creatures are slain but the man is left alive and unconscious.
After the terrain becomes forested again, you finally reach the shore and find your ship waiting as expected. Suddenly most of the group is caught in a huge net. "Stop it is them!" you recognize Gamble come from the forest, along with a few others.

"Greetings! Looks like our cautious measure was for not. (one of them cut the rope and your drop back down) we picked up the rest of Captains crew when we got through the strait, may I introduce you!" Captain Sulu greets you on deck and says they are ready to make sail, and that a message came for Fow Bang Chow, as well as for Rongo
"Captain Rongo, we hope your mission goes well, we have become increasingly successful at hunting down the WolfBat spawn and will continue working with the other nations to contain the spread of these creatures. Jaraiya has nearly mastered Airbending and constantly asks for the state of his friends, the Champions. He will soon move to the Southern Water Tribe to learn Waterbending, which should take some time as it will be a particularly difficult element for him. The Order has stood by the One Year cease fire and the temple has been mostly repaired. There was a anonymous assassination attempt on the Avatar, but Higen and his Crimson Dragons thwarted the plot before it came to blades. What is the state of your mission?
I have sent word to the Chief of the Northern Water Tribe to expect you. Be warned however, Aumanil was expected to become chief when he disappeared from the tribe, a source of great dishonor in his land, and his younger brother became chief. No love is lost between them and it may require some… Diplomacy on your part. I should add, the rings we gave you, colored for each of your elements (they are made of colored gem and have the image of a lotus flower inside them, Talins is brown, Fow green, Rongo and Kio red, Aumanil blue, po po white, and Angela wore Tsing Toa's which is pink) these rings, when worn, identify you as the champions of the white lotus and give you official diplomatic status. You may speak on behalf of the alliance with those rings, but only if Fow, Aumanil, and Po-Po as the oldest members agree with whatever your decision is as far as diplomacy goes.
General Zimmer"
A few days at sea, the ocean is very foggy and the seas are rocking the ship. There is a ship in coming through the fog, it has no sails. The ship is dead silent. There is no crew to be seen. When the ships cross paths, they slowly stop in the water, trapped in place, as the transfixing sound of a womens voice comes from inside the ghost ship…